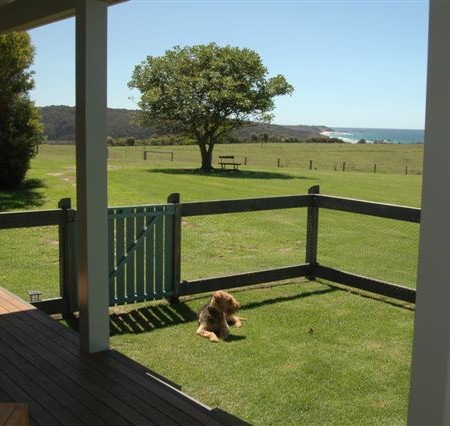 Pet Friendly Accommodation
Here at Oakleigh Farm, we are pet friendly.  As pet owners ourselves, we understand that you want to bring your pets on holiday with you. We are very happy to welcome well behaved pets (and well behaved owners) to Oakleigh Farm, but for the sake of peaceful coexistence and a happy holiday for all, we would ask that you follow a few simple rules, and remember that taking a holiday with your pet isn't the same as taking a holiday from your responsibilities as a pet owner. That way we can keep the quality of our cottages both as pet-friendly and for pet-free guests.  Many thanks for your cooperation.
On arrival please keep your dog on the lead while it familiarizes itself with the site. Please also keep your dog under control around the other properties. Our chickens are free range and we have cats and other animals around the farm. Your dog may not have experienced chickens before. There may well be other dogs staying in the other cottages.  Please supervise "greetings" to ensure there are no doggy arguments or unwanted advances – many dogs are very well socialised, but others are shy and nervous of dogs they don't know.  There may also be children staying in the other cottages, and children who are not used to dogs are often either afraid of them, or may rush up to hug them, giving your dog a fright.  What may be seen as a "nip" to a dog owner can be interpreted as "savaging" by those unused to dogs!  We want to make sure that everyone has a happy holiday, so your cooperation is appreciated.
If any dog is persistently causing nuisance or distress to other guests or farm animals, we reserve the right to ask the owner to leave.
Dogs must not be left alone and unattended in your cottage. We are proud of our property, and need to keep the cottages in top condition, which is incompatible with dogs chewing furniture! This is particularly relevant for puppies. Reimbursement for any damage caused to the furniture by your dog will be your responsibility.
Please note that the South Coast is a tick area and you should speak to you vet to ensure your dog has adequate protection.
We ask that guests bring with them dog bed/bowls/poo bags etc but please ask if you forgot to bring something. We can provide poo bags if required and there a couple of spare water bowls for dogs in the guest laundry. Poo bags can be placed in the outside bin for each cottage or there are extra bins behind the communal lounge.  Please use the poo bags at the time of any incident, so that grass mowing doesn't cause muck spreading incidents! Please do not allow dogs into the bedrooms or on the furniture. Please ensure that the cottage is clean and free from dog hair before you leave. We regret that we will charge an additional cleaning fee of $50 if your cottage requires extra cleaning of rugs, carpets or furnishings.
There is lots of dog walking onsite on our 63 acres and in the surrounding lanes. If you want to let the dog off the leash then Mystery Bay beach, Handkerchief beach and Tilba cemetery beach are perfect – there is also a fenced off-leash area in the centre of Narooma. Please do be aware there may be animals in our paddocks, and never take dogs off-leash into paddocks with animals. Please also make sure you close any gates behind you. Mystery Bay beach is off-leash 24hrs in the winter and in summer dogs are allowed off-leash before 9am and after 5pm.